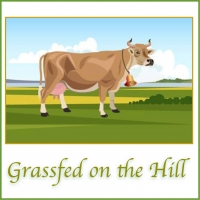 Dear Grassfed on the Hill foodies--

Fall is upon us--this glorious season of spectacular colors, bright, cool air, and the delightful warmth of gentle soups.

For Grassfed on the Hill, this is a season of growth and gratitude--although every season is one of exceptional gratitude.

The past few months, I have been working extra hard to find the best possible products to share with you all. You are always welcome to pre-order and not wait for the deadline.

INTRODUCING NEW PRODUCTS!

Oakham Farm Pork (Available monthly on the 3rd week of the month)

Oakham farm is a farm in Northern Virginia dedicated to reinvigorating that land as a small, sustainable farm. Alisa Johnson is a new farmer raising pastured pork on this farm she shares with her mother. She is raising a specialty, heritage breed of pig called Ossabaw pork. Ossabaw pork is known for its high fat content, with a particular emphasis on the taste and quality of the fat. This breed has an interesting history and role in ecosystems. Currently, the pork is pastured with full free range within the selected pastures. They are transitioning to organic which means the pigs get some conventional grain along with their acorns, walnuts, roots, and forage.
There are a select few of these pork products available to us. Several of these fatty cuts are large portions. This past summer, Alisa hosted a tasting event for Grassfed on the Hill members in anticipation of offering her products to the group. If you were lucky enough to attend that event, you will remember the spectacular flavor and texture of these pork cuts.

Beeswax Wraps (Available monthly on the 3rd week of the month)

If you are anything like me, you are always looking for ways to reduce plastic consumption. These organic cotton and beeswax wraps replace plastic wrap and sandwich bags in most cases. Wrap up cheeses or other leftovers using the stickiness of the wax to secure the wrap. As a bowl cover or sandwich wrap, it is works the same way--cover what you need to and use the warmth of your hand to soften the wax so it sticks to itself. These wraps are each handmade by a lady in PA. They come in different sizes and are priced accordingly.

Cod Liver Oil (Available as part of the November 15 delivery. Limited supply! If there is enough interest, I will carry these and other products from Organic 3 regularly)

Always in search of the best products myself, I am happy to offer what I find for others who are interested. I recently learned much more about Organic 3 and their specialty brand of fresh cod liver oil--Rosita. This company is dedicated to providing the highest quality supplements possible. (If there is enough interest in other products they carry, please let me know! I would be happy to carry more if there is demand)

That's all for now! Please hit reply with any questions, comments, or feedback! I always love hearing from you.

Grassfed on the Hill Purpose:
 
I believe that we have the right to nourish our families and ourselves by peacefully accessing the foods of our choice from the producers we choose. We have the right to pursue vibrant health by choosing the foods that are best for us. This is why I run this buying club and this is why I am thrilled to make these amazing foods available to you and your family.
 
Thank you for making Grassfed on the Hill your source for local foods!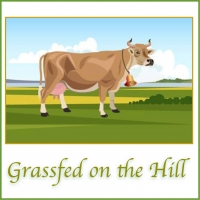 Introducing Clark's Farm in Howard County MD
Specializing in Grassfed Beef and chemical free produce!

Beef sticks back and the best beef jerky!

I had the pleasure of visiting this farm last week to see if they were compatible with the Grassfed on the Hill mission and standards.

I love history and great stories, so I was naturally captivated by Nora's description of the farm history. It was only recently that the mother-daughter team of Martha Clark and Nora Crist took over the entire farming and business operations to keep their family farm alive and honor their family's request to "never sell the land."

When Nora went off to college, as many young people do, she intended to pursue other endeavors, but was soon diagnosed with a debilitating chronic illness. She returned from the farm and, as she learned more and more about the benefits of grassfed beef, she changed her diet and farming practices and her health improved as a result. This cemented her in the direction for holistic farming practices and her deep commitment to producing nutrient dense food for others.

The spirited, 29-year old farmer is determined to make the farm work and continue to improve her health. I hope that we can give her a boost on her journey!

Here is more history of the farm over the many generations their family has managed that land:

http://clarklandfarm.com/about_our_farm.html

While the petting farm is the farm's main source of income currently, they hope to balance that by increasing production of their angus, grassfed beef and providing that to local markets. They are excited to offer their beef to Grassfed on the Hill and they are a perfect fit for our group of conscientious, nutrition and socially/environmentally-minded, consumer base.

During my visit, I met part of their herd. The angus cows were in a separate field from the cattle because they are still calving and nursing their babies. I had my children along with me and, at one point, my son ran ahead and the entire herd of cows, babies and all, followed him along the fence line. It was adorable.

As we learned about the farm that day, the children visited the baby animals at the petting farm, they explored the colorful creations of the Enchanted Forest (that is an amazing story about this farm), and another great reason to visit this farm!

Nora and I are already brainstorming possibilities of having a farm picnic for the group. Until then, here is a photo tour of the farm. Be sure to check out all the great products they are offering and leave a note for the farmers if you order from them.

As the season progresses, they will have plenty of their amazing, chemical free produce available to us as well.

Please give Nora a wonderful welcome to being a Grassfed on the Hill producer.

Photos from my visit: https://goo.gl/photos/f7oQ5mc67ZjwNxQw6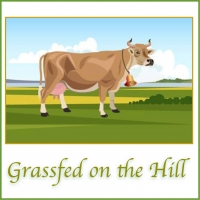 Today is a special day! It is the first warm and sunny day of spring. We have dealt with several weeks of excessively rainy, cloudy weather and cold temperatures. It is refreshing and wonderful to feel the sun on us once again.

With the sun, the grass grows rapidly in the fields offering the cows a juicy diet. This rapidly growing grass gives the butter the higher vitamin A and K content.