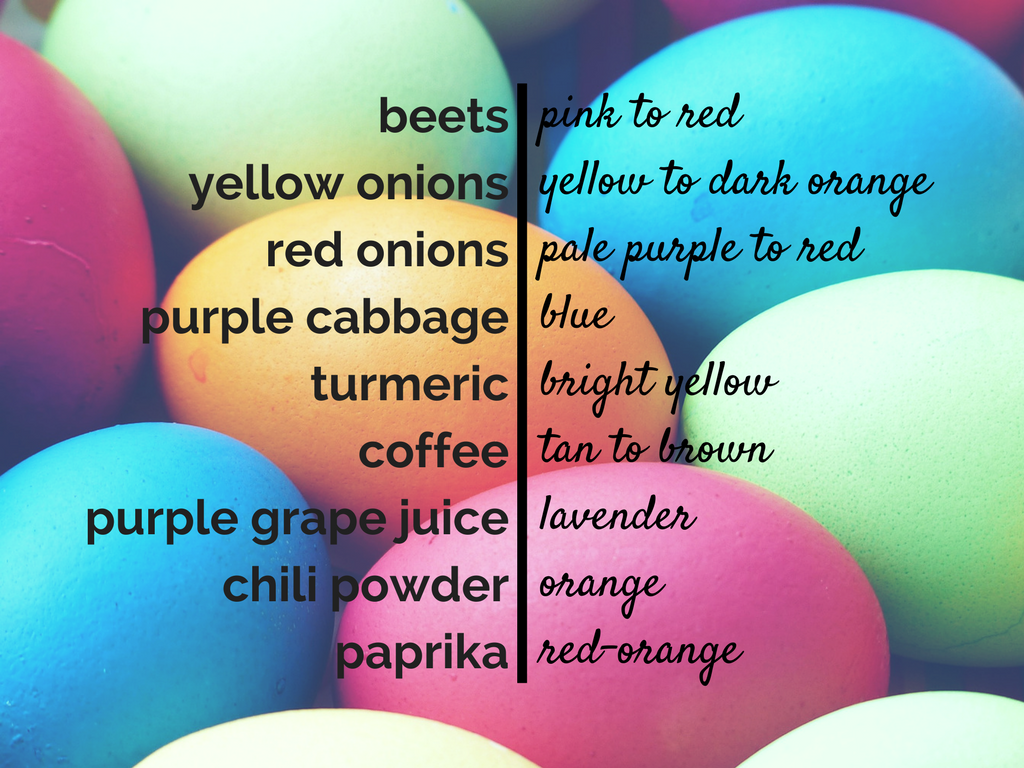 Around this time of year, parents everywhere are preparing for the imminent mess that is to come of the dying of Easter eggs. Whether you like blues and greens or pinks and purples, egg dyes can be found in pretty much any color. Of course, the not-so-playful side of this holiday tradition is that egg dyes are often made from not-so-desirable ingredients. Thankfully, almost any color dye can be made from natural ingredients, usually with items you already have in your pantry!
For most natural dyes, all you'll need is some water, white vinegar, and the source of color or dying agent. There are plenty of different dying agents in a typical kitchen, so if you're up for it feel free to let the kids (or you!) pick items to experiment with and see what colors you can make. Note that colors will appear differently on white and brown eggs, giving you another opportunity to experiment. The following list contains common kitchen items that, when paired with water and white vinegar, are great for dying your hardboiled eggs!
Beets: pink to red
Yellow onions: yellow to dark orange
Red onions: pale purple to red
Purple Cabbage: blue
Turmeric: bright yellow
Coffee: tan to brown (use strongly brewed coffee instead of water/vinegar mix)
Purple grape juice: lavender (no need for vinegar or water with this one)
Chili powder: orange
Paprika: red-orange
Directions:
1. Simply combine 4 cups of water with the designated amount of dying agent (3-4 cups for fresh fruits or veggies, and 3-4 tablespoons for spices)
2. Bring mixture to a boil, and let simmer for 30 minutes.
3. Strain mixture, and add 4 tablespoons white vinegar to the liquid dye.
4. Let eggs sit in the dye, in the refrigerator, until the eggs have reached your desired color (could be anywhere from 1-12 hours).
And that's all you have to do to not spend extra money on artificial dye for your Easter eggs this year! So instead of letting those mysterious colorful substances stain your kitchen table — and your children's hands — stick to these totally safe, totally natural, and totally simple alternatives.