As winter arrives, farm work slows down and agricultural conferences ramp up. There are many regional conferences working to promote and teach people about sustainable agriculture across the US. There are two prominent ones in the Mid-Atlantic region that are worth highlighting: Cultivate the Chesapeake Foodshed Conference organized by the Future Harvest Chesapeake Alliance for Sustainable Agriculture (CASA) and Farming for the Future put on by the Pennsylvania Association for Sustainable Agriculture (PASA).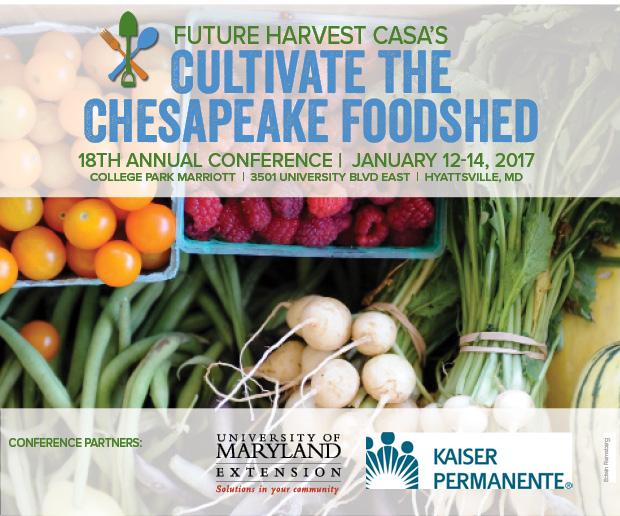 Cultivate the Chesapeake Foodshed, the region's largest food and farm gathering, will be held January 12-14th in Hyattsville, Maryland and it will entail workshops, inspiring speakers, networking and the Local Fare Fair. The four keynote speakers include Chris Blanchard from The Purple Pitchfork, Dr. Kristine Nichols from the Rolade Institute, Chef Jordan Lloyd from the Bartlett Pear Inn and Elizabeth Henderon from Peacework Organic CSA. The programming is extensive and some of the sessions include "Make your Farm Brand Go Viral," "Farming the Forest" and "Regenerative Agriculture." And of course, no agricultural conference would be complete without great food offerings. There will be food trucks serving local foods and the always popular Chesapeake Farm Dinner will take place on Friday with Chef Jordan Lloyd treating the attendees to a meal created from the local ingredients. You can register
here
.

On February 1-4th, PASA will bring together more than 2,000 farmers, processors, consumers, students, environmentalists, business leaders and community leaders for Farming for the Future in State College, Pennsylvania. There will be full and half day programming on topics such as "Starting a Farm from Scratch," "Farm Smarter, not Harder, with farmOS," and "Yards that Yield". A trade show will showcase some of the best people working in sustainable agriculture and the social hour reception and meals will feature regionally sourced, delicious ingredients. There is an agricultural themed Future Farmers program for children K through 8. Additionally, many special events such as yoga and seed swaps will occur. Some notable speakers include Janissa Ray, a writer, activist and naturalist, Gabe Brown, farmer and soil health pioneer at Brown's Ranch and many more. Visit
PASA's website
to register.
Another upcoming conference, the Annual Healthy Farms Conference, will be held on January 27th and 28th in Columbus, Nebraska. There will be programming on topics such as "Holistic Management" and "Urban Farming Resources and Opportunities," as well as interesting programming for kids since families are encouraged to come. John Ikerd, the "Sustainable Economist," and Greg Gunthrop from Guntrop Farms will deliver the keynote speeches. Local, sustainable and delicious food will be served. This conference hopes to inspire and educate. More information can be found on
their website
.
The Ohio Ecological Food and Farm Association will hold their 38th annual conference entitled "Growing Today, Transforming Tomorrow" in Dayton, Ohio from February 9th to 11th. More than 80 workshops will be held. Additionally, participants can visit the trade show and attend the Contrary Farmers' Social where local food and drinks will be served. All ages are welcome and there will be entertaining and educational activities for children and teens. Visit
their site
to learn more and register.
These conferences work to educate people and promote sustainable agriculture, something 1000EcoFarms supports as well. The conferences not only educate and benefit farmers, but they aim to show all people where their food comes from and they hope to help consumers get to know their farmers.
Members of 1000EcoFarms team will be attending and even presenting at the Cultivate the Chesapeake Foodshed conference in Maryland and we would love to see and meet you there.