Cinnabons with pumpkin puree are just great. Airy, tender, fragrant and full of taste. Just delicious! Just try and save this recipe!!!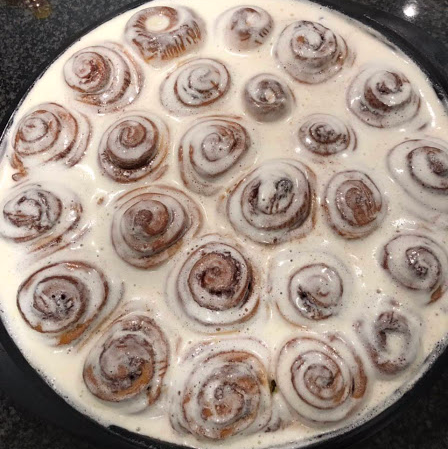 Boil or bake 200-300 g of diced pumpkin. It will take you 15-20 minutes. Then use a blender to make pumpkin puree.
Then make a brew: mix 0.3 l of milk, 1 bag of dry yeast (11 g), 2 tbsp. of sugar and 3 tbsp. of flour. Let the dough come in for 15-20 minutes.
Beat up 2-3 eggs with 150 grams of sugar, vanilla, 1 tbsp. of salt. Add 200 grams of melted butter. Add all this to the dough and mix. Then add pumpkin puree and 2-3 tbsp. of sifted flour (about 750 grams).
Stir the dough properly (it should not stick to your hands) and put it in a warm place for 1 hour (until its volume doubles).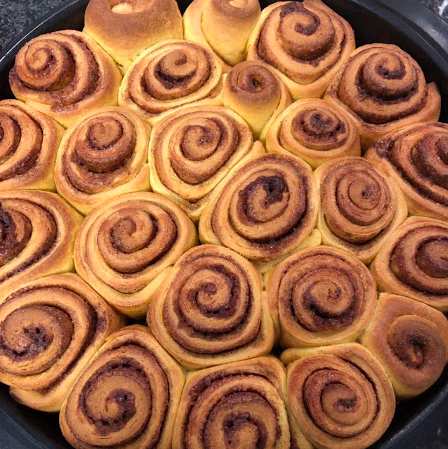 Prepare the filling: mix 1-2 tablespoons of ground cinnamon with 100 grams of sugar.
Then roll the dough into a layer 0.5-1 cm thick. Grease it with butter (one layer will take 50 grams of butter at room temperature), add cinnamon-sugar mixture and make rolls.
Cut them into rolls (3-4 cm wide) and put in a warm oven for about 40 minutes.
After this bake cinnabons in an oven preheated to 200 degrees for about 25-30 minutes.
Now make the cream: beat with a mixer 300-500 ml of cream (fat content of 33%), 250 grams of mascarpone cheese and 1 tbsp. of powdered sugar. Optionally, you can add 1 tbsp. of juice and lemon or lime peel.
Take the hot cinnabons from the oven and grease them with a cream. Do not be afraid that they will float in the cream, they will absorb the cream like a sponge and become very tender and juicy.
Serve your cinnabons with tea.
Enjoy your meal!