Due to its aroma and unique taste, mint is used in cooking, both in fresh and dried form. Drinks containing peppermint are able to freshen in the summer heat, and hot tea with mint will warm on a cold winter evening. Mint is widely used in cosmetology. Menthol, contained in it, stimulates skin cells, restores and tightens it. A refreshing fragrance made mint a constant ingredient of toothpaste.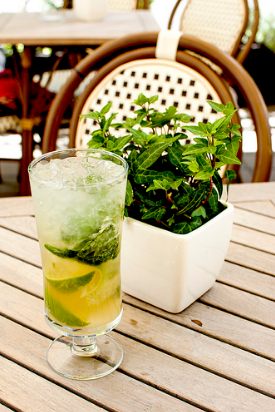 Source: www.flickr.com/photos/lorelaywhistle/9396954742/
But mint is attractive not only due to its aroma and taste. It has a number of medicinal properties, which we shall discuss.
Mint is rich in essential oils, flavonoids, vitamins and minerals. Vitamin C, PP, A, as well as thiamine, riboflavin, pyridoxine, pantothenic and folic acid, calcium, magnesium, potassium, sodium and manganese. Here is an incomplete list of useful substances mint contains.
Menthol, thanks to which mint has such a reach flavor and taste, has an antiseptic and antibacterial effect, thereby it helps to relieve indigestion and pain. To mitigate the symptoms, you should brew fresh mint leaves with boiling water, infuse it for fifteen minutes, and then take three tablespoons, throughout the day.
You must have noticed that nasal drops and syrups against inflammation in the throat have a mint flavor. This is not surprising, because it has an anti-inflammatory effect, relieves irritation, facilitates breathing. However, you should always follow the instructions on the package, because in case of an overdose, an allergic reaction may occur.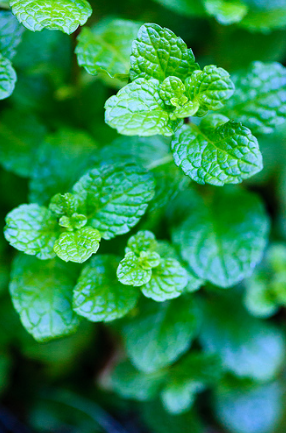 Source: www.flickr.com/photos/raoulpop/5863888983/
In addition, mint improves metabolism, stimulates digestive enzymes that facilitate the absorption of nutrients from food, so it can contribute to weight loss.
Mint also has adaptogenic properties, its aroma can relieve severe headaches. To relieve pain and nausea, rub your forehead and nose with mint balm. In addition, adoptogens regulate the level of cortisol and increase the resistance of the body to stress. That is why the aroma of mint can instantly calm you down. Mint flavor also helps to release a small amount of serotonin in the brain, thereby it helps to fight depression.
Due to bactericidal properties, mint is the first friend of the oral cavity. Substances contained in mint leaves inhibit the bacteria inside the mouth and clean the teeth from plaque. It is for this reason that this fragrant herb is an invariable component of toothpaste and elixirs.
Mint is also a traditional remedy for acne. In addition to the fact that its leaves have anti-inflammatory and antibacterial properties, they also contain salicylic acid, which copes well with skin problems such as acne. Mint juice sometimes works more efficiently than cleansing masks and creams. Mix the mint leaves with honey in the blender, apply to the skin of the face, avoiding the area around the eyes, leave for 20 minutes, and then rinse with warm water.
Despite the fact that now mint can be bought in the store at any time of the year, it is more useful in summer. Under the bright sun, the leaves are filled with essential oils and nutrients, preparing to give you all their benefits.